SQUARE ENIX invita tutti i Guerrieri della luce a partire per Ivalice con la patch 4.1 di FINAL FANTASY XIV: Stormblood, intitolata The Legend Returns. Questa attesissima nuova storia con raid dell'alleanza porterà i giocatori nella città di Rabanastre, dove scopriranno ulteriori dettagli sulla Majestic Imperial Theater Company e sveleranno i segreti e i misteri della leggenda di Ivalice. La patch 4.15 introdurrà inoltre Rival Wings, la nuova modalità PvP con combattimenti 24 vs 24 con un nuovissimo regolamento. Gli avventurieri potranno pilotare potenti creazioni dei goblin in un terreno di prova dimenticato dei Sharlayan, chiamato Astragalos, e combattere per cercare di distruggere le torri dei loro avversari. Il gioco è disponibile per le piattaforme PS4 e pc.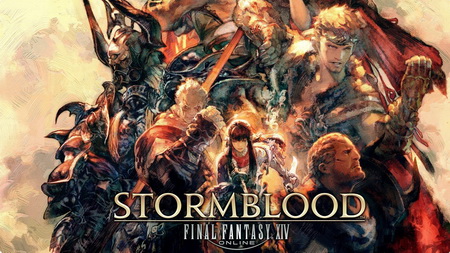 Ritorna a Ivalice con la patch 4.1 di Final Fantasy XIV: Stormblood
The Legend Returns include anche nuove missioni, battaglie e altri aggiornamenti, tra cui:
Missioni dello scenario principale: la liberazione di Ala Mhigo da parte della resistenza segna la fine di un'era di tirannia. Ora Lyse e la sua gente dovranno decidere cosa fare in futuro, mentre anche Raubahn prende delle decisioni importanti.

Nuova serie di raid dell'alleanza a 24 giocatori: per la creazione di questa nuova ed emozionante serie di raid e la storia "Return to Ivalice" hanno collaborato il celebre game designer Yasumi Matsuno (FINAL FANTASY XII/FINAL FANTASY Tactics) e Keita Amemiya, creatore della serie TV e cinematografica Garo, da cui prendono ispirazione i design dell'equipaggiamento, delle armi e delle cavalcature del PvP della patch 3.5.

Nuovo dungeon di alto livello: i giocatori potranno immergersi nelle profondità di "The Drowned City of Skalla", le rovine sommerse di una città distrutta dalla guerra e piena di promesse, tesori e antichi misteri.

The Minstrel's Ballad: Shinryu's Domain: Shinryu invita nuovamente i giocatori sul campo di battaglia in questa nuova prova; una sfida ancora più grande dell'incontro originale con questo temibile nemico.

Nuove missioni secondarie: arriva un nuovo capitolo dell'amata serie di avventure di Hildibrand, in cui Nashu Mhakaracca parte per l'Estremo Oriente alla ricerca del suo mentore.

Adventurer Squadron: i giocatori potranno esplorare una serie di dungeon in solitaria con una squadra formata da altri tre avventurieri. I giocatori potranno anche dare ordini ai compagni, che diventeranno sempre più forti a mano a mano che otterranno esperienza durante queste avventure.

Missioni Beast Tribe dei Kojin: aiuta i Blue Kojin a costruire la loro camera blindata in cui riporre i tesori che trovano e onorare la loro divinità, guadagnando delle ricompense per aver rafforzato il tuo legame con questa tribù.

Nuova area residenziale: lotti disponibili per i nuovi residenti nella pittoresca Shirogame, che offre uno stile di vita unico nel paradiso di Hingan.

Nuove consegne personalizzate: i Disciples of the Hand and Land possono inviare oggetti artigianali e raccolti a M'naago ogni settimana per contribuire alla sua causa e saperne di più sul Resistance Widows and Orphans Fund.