ArenaNet ha distribuito un importante aggiornamento dedicato a Guild Wars 2 ed all'espansione Heart of Thorns, il quale include nel titolo diverse aggiunte e numerosi cambiamenti tra cui un boost fino al livello 80 ed un nuovo raid.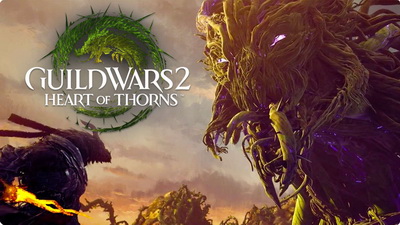 Ecco alcuni dei cambiamenti più importanti che i fan di Guild Wars 2 potranno vedere dopo aver scaricato la patch:
Esplorazione delle mappe di Heart of Thorns più facile: la patch aggiorna le mappe di Guild Wars 2: Heart of Thorns e rende l'esplorazione più divertente sia da soli che in gruppo. I punti di riferimento più importanti ora sono indiscussi e rendono la mappa e le avventure più accessibili. Sono stati aggiunti nuovi eventi e messi in ordine di importanza quelli già presenti. Ci saranno diverse ricompense con eventi sulle mappe che daranno ai giocatori più competenze su come trascorrere il tempo nella giungla.
Nuovi dailies & achievements: l'aggiornamento porta in Heart of Thorns nuovi dailies e achievements. Inoltre i giocatori conquistano due gold per il raggiungimento del daily meta-achievements.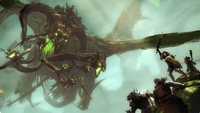 Nuove ricompense e collegamenti mondiali per il World vs. World: WvW ora è caratterizzato da ricompense. I giocatori possono fare scelte strategiche per guadagnare libri, materiali artigianali e pelli, compreso un esclusivo set di armi WvW. L'aggiornamento di oggi crea alleanze tra le popolazioni meno numerose consentendogli di avere i giusti numeri per affrontare le popolazioni più numerose.
Nuovo raid: Un nuovissimo gruppo raid consente ai giocatori di unirsi agli amici, organizzare la propria squadra, affinare le abilità del raid e godersi un comodo accesso al portali del raid al Lion's Arch Aerodrome.
Boost livello 80 gratuito: tutti i giocatori di Heart of Thorns possono usare il boost livello 80 per far crescere il loro protagonista o per provare nuove professioni prima di battersi faccia a faccia con l'anziano dragone Mordremoth. Altre informazioni sul boost di livello massimo le trovate nel comunicato ufficiale.